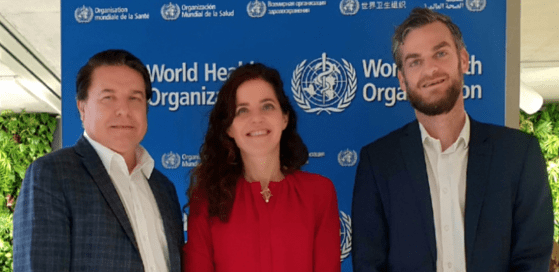 Photo caption:
Dr. Ivo Kocur, MSc MA MBA, ICO CEO (left) with Dr. Alarcos Cieza, MSc MPH PhD, WHO Unit Head, Sensory Functions, Disability and Rehabilitation (centre) and Dr. Stuart Keel, PhD, Technical Officer, Vision and Eye Care Programme (right) at the WHO Expert Consultation on Refractive Errors in Geneva, Switzerland.
Uncorrected refractive error, which can be fully corrected with spectacles or contact lenses, is the leading cause of vision impairment in children and adults. Globally, it is estimated that only 36% of people with a distance-vision impairment due to refractive error have access to an appropriate pair of spectacles, while more than 800 million people have a near-vision impairment that could be addressed with a pair of reading spectacles.

From May 11th to 12th, the ICO participated in the World Health Organization (WHO) expert consultation to prepare a global initiative to address this critical gap in eye-care services, including the shortage of spectacles in countries around the world. This global initiative aligns with the 2021 World Health Assembly endorsement of a 40% increase in effective coverage of refractive error by 2030. The ICO is in official relations with the WHO and wholly supports the WHO in its timely efforts to address uncorrected refractive errors.